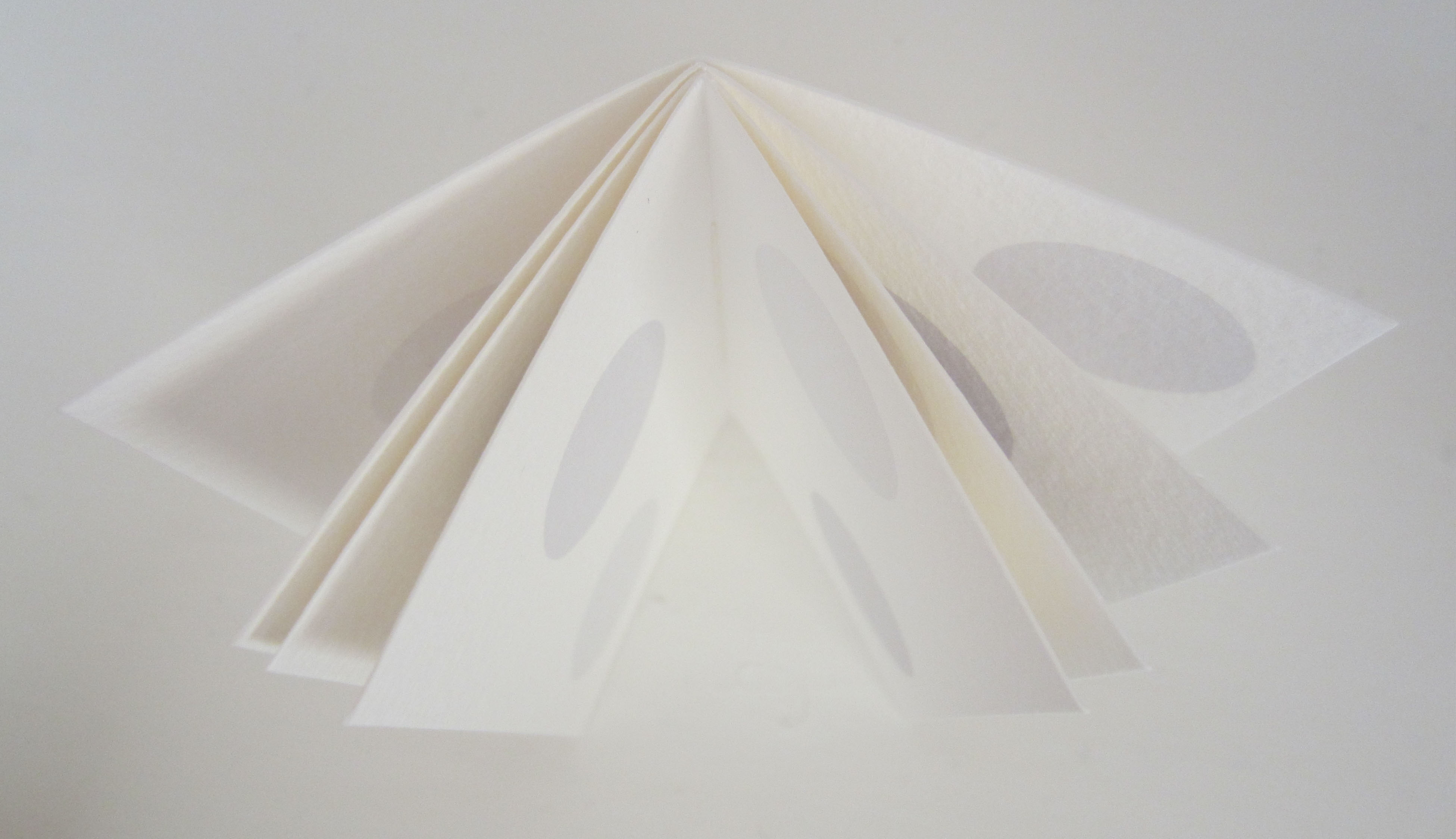 ABOUT JULIE JOHNSTONE
Julie Johnstone is an artist, independent curator and publisher based in Edinburgh, UK.
She creates artists' books and installations that explore visual perception, distillation and contemplative experience.
Works are held in collections at Tate Library, National Art Library (V&A), Scottish National Gallery of Modern Art, Yale Center for British Art, University College London, Winchester School of Art, Glasgow School of Art, Edinburgh College of Art, Centre for Fine Print Research at University of West of England, Bibliothèque nationale de France, University of Maryland, Stirling University, National Poetry Library, Scottish Poetry Library, and in private collections.
She regularly exhibits at artists' book fairs, including PAGES (Leeds International Contemporary Artists' Books Fair), BABE (Bristol Artists' Book Event), Small Publishers Fair (London), BookMarket (Fruitmarket Gallery, Edinburgh).
Her minimal text works have appeared in several journals and publications, most recently in The New Concrete: visual poetry since 2000 (Hayward Publishing, 2015), Quait, Scree, and p.o.w
COLLECTIVES
She is a member of the AMBruno collective and exhibits with them internationally and throughout the UK, including:
London Art Book Fair, Whitechapel Gallery 2013  |  Berliner Liste fair for contemporary art 2014  |  Barcelona Arts Libris International Fair 2014  |  New York Art Book Fair 2016, 2017  |  MISS READ: Berlin Art Book Festival 2017  |  AMBruno Show and Tell, Tate Britain 2017  |  PAGES Leeds International Contemporary Artists' Book Fair  |  BABE Bristol Artists' Book event  |  BALTIC Artists' Book Fair
RESIDENCIES
She was awarded the inaugural Research Residency in Artists' Books at the Edinburgh College of Art Library, May 2014.
Funding was granted by Creative Scotland in 2015 for an extended residency and exhibition in Kyoto, Japan, after a self-funded initial visit in 2014. A further residency was undertaken in Kyoto in 2016, and an extended return trip is planned for autumn 2018.
FUTURE EXHIBITIONS
Her next solo exhibition will be at the private library of William Zachs, Blackie House, Edinburgh, in late 2017.
RECENT EXHIBITIONS
Making Beyond Words: Intersections between Text, Image, Display: Celebrating 50 years of Concrete Poetry Bath Spa University, Corsham, 2017
Pages: Future Present, The Tetley, Leeds, 2017
Frog Pond Plop : homage to Basho, Cairn, Pittenweem, Scotland, 2015
RUkSSIAN Artists' Books Tsaritsyno Museum and Reserve, Moscow, 2014
& Pavel Kuznetsov Museum, Saratov, Russia, 2014
Art/Book/Object Gabrielle Keiller Library, Scottish National Gallery of Modern Art, 2014
'Of Green Leaf, Bird, and Flower': Artists' Books and the Natural World Yale Center for British Art, New Haven, Connecticut, USA, 2014
53 Books Chelsea College of Arts Library, London, 2016
Julie Johnstone: Artists' Books, Galerie Weissraum, Kyoto, 2015
Formations Edinburgh College of Art Library, 2014
AMBruno 2008-2014 Bower Ashton Library, UWE, Bristol, 2014
Punctuations, Separations Eagle Gallery, London, 2013
PALIMPCYST Yellow Bench, Edinburgh, 2013
Visual Poetics Saison Poetry Library, Southbank, London, 2013
Sense of Place in Artist Books University of Minnesota, Minneapolis, USA, 2012
Life, the universe and everything IMPACT 7: Intersections & Counterpoints, Melbourne, Australia, 2011
Beyond Content Stanley & Aubrey Burton Gallery, University of Leeds, 2010
The Secret Library of Solihull Solihull Gallery, Solihull, 2010
Various artists' book displays Tate Britain reading room & Meschac Gaba show
In a different light Scottish Poetry Library, Edinburgh 2007
Word Order Peacock Visual Arts, Aberdeen; The Changing Room, Stirling, 2006, with Alec Finlay, David Bellingham and Thomas A Clark
Island works Stanza International Poetry Festival, St Andrews, 2006
ESSENCE PRESS
Through her Essence Press imprint she has undertaken many handmade publishing and editorial projects, working with poets and artists from Scotland, the UK and America, and edited two journal series, less, and, island.  Essence Press has worked with several poets and artists to create hand bound artists' books or poem-objects, including Thomas A Clark, Alec Finlay, Richard Price, Gerry Cambridge, Jane Hirshfield, and Maria White.
CURATORIAL
She was formerly the Librarian and Curator at the Scottish Poetry Library (2000-2017), responsible for the day to day management of the library, curation of the special collections and exhibition programme. She established By Leaves We Live, the annual artists' books and small presses fair (2005-2013) there and curated multiple exhibitions, most notably:
A Model of Order Various venues, Edinburgh 2009  |  A city-wide exhibition and event programme on concrete poetry, curated with Thomas A Clark, drawing on the participation of several venues and collections across Edinburgh including Scottish National Gallery of Modern Art, the National Library of Scotland and Edinburgh College of Art.
SMALL Scottish Poetry Library, 2010; Byre Theatre, St Andrews (Stanza), 2011  |  An international display exploring the phenomenon of small artists' books.
CONTACT
essencepress @ btinternet.com